Baker's Cyst Surgery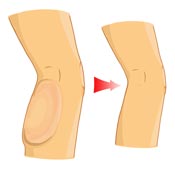 You can treat a Baker's Cyst yourself at home. Further treatment is only needed if the cyst stops you from using your knee properly or causes pain that doesn't go away.
In rare cases, a Baker's Cyst can burst, causing fluid to leak down your calf. The fluid will gradually be reabsorbed into the body within a few weeks.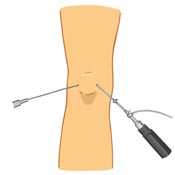 If there is a lot of damage to the knee joint caused by a condition such as osteoarthritis or a physical injury, surgery may be needed to fix the problem with the joint. This is usually done using a type of keyhole surgery called arthroscopy. This allows the surgeon to look inside a joint and repair or remove any damage.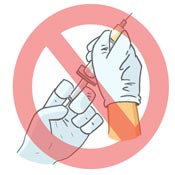 The goal of surgery is to remove the cyst and repair the hole in the joint lining where the cyst is pushed through. Unfortunately, about half of the time the cyst comes back, or recurs, after being removed. Surgeons are cautious when suggesting surgery to remove a Baker's Cyst because they are prone to recur. The cure is often permanent, but preventing further cysts depends a great deal on the success of treating the underlying cause. You should be aware that there is a very real chance that your cyst may return after being removed and there is no guarantee that surgery will be successful.