Baker's Cyst Physical Therapy
A physical therapy program can help to relieve the symptoms of your Baker's Cyst, as well as address the underlying injury that caused the cyst to develop.
Physical therapy programs for Baker's Cysts differ depending on how much pain the person is in, whether the Baker's Cyst is ruptured or intact, and how much the Baker's Cyst affects the person's mobility.
Cold compression, massage, taping and electrical stimulation are all common treatment methods used in physical therapy. These methods are mainly designed to help with the symptoms of pain and swelling that come with a Baker's Cyst.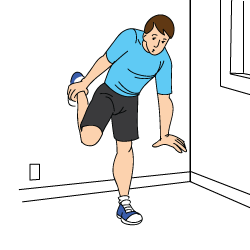 Range of Motion Exercises are used by physical therapists to help their Baker's Cyst patients regain proper movement of their leg without experiencing pain. These exercises include heel slides, wall slides, hamstring stretches and quad stretches. Using a stationary bike is also effective.
Strengthening Exercises are also used in physical therapy programs for Baker's Cyst patients. They're designed to restore strength to the muscles in the affected leg. These exercises include knee extensions, lunges, squats, dead lifts, hamstring curls and hip abduction exercises.